Reading Time:
6
minutes
For the uninitiated, you'd be forgiven for confusing UX and UI. The complementing roles work very closely with each other – sometimes merging to the point that it can be difficult to distinguish where one role ends and the other begins.
In this article, we'll lay out the key differences between UX and UI in layman's terms to help you better understand each discipline and identify the key skills associated with them.   
What is UX design?
First and foremost, what does UX stand for?
UX is an acronym for User Experience and refers to a holistic, user-centred method of designing products and services where the end user's needs are always of paramount importance and the first of considerations.
What do you mean by a holistic, user-centred method of designing?  
It basically means that in the process of designing a product or service, a UX designer always has the end user (or customer's) level of satisfaction in mind. Research and development focuses on improving usability, ease of use and the pleasure provided in the interaction between the customer and the product.
A good UX designer asks the question "what's the best way my company's product can meet the customer's needs?" Exceptional UX is the difference between "does the product work?" and "does the product work well?"
However, though UX design is definitely user-centred, it's not ALL about the customer. Great UX design is the marriage of a remarkable customer experience and meeting the business needs of a company. As Paul Schwer, Product Manager at the UX Design Institute puts it;
"A UX designer needs to have knowledge of the larger business' strategy and where the product fits in with the company and the rest of its products." 
UX design is not just about tech
When we hear the term "UX", images of the tech industry, electronic devices and interfaces instantly come to mind (hence the confusion with UI) but the concept of user experience isn't a new one that came with the dawning of the digital age – it's just the term that's new.
Thought to have been coined in the late 1990's by Don Norman, co-founder of the Nielsen Norman Group Design Consultancy as well as a cognitive scientist, he states that
"User experience encompasses all aspects of the end-user's interaction with the company, its services, and its products."
Nothing in that definition suggests that UX is technology-specific and in actuality, UX design thinking can be applied to the design process of any kind of product or service, be it on or offline. UX designers must consider all aspects of a customer's interaction with a product, including the purchasing process, customer service experience and beyond.
However, despite the fact that the role of UX designer goes beyond the remit of just the digital and technological aspects of product design, since the term came into popular use, it has almost exclusively been associated with digital products.
What is UI design?
Unlike its complement, UI (User Interface) design is strictly a digital profession. Where UX design focuses on a number of tasks concerned with the optimisation of a product's efficiency and usefulness, UI design's purpose is much more cosmetic.
One of the key roles of a UI designer is to consider the look, feel and visual presentation of different elements of a digital interface. However, UI design is much more than mere aesthetics. Beyond looks, UI designers are responsible for the interactivity and intuitiveness of a product's interface.
What do you mean by the elements of a digital interface?
Well, for example, when someone arrives at your website or opens your app, how easy is it for them to navigate and achieve their goal without aid? What indicators are in place to let the user know that they've successfully completed an action? What do the colours of buttons and/or controls tell the customer? Do they change when they've been clicked? And so on… 
Good UI design translates the results of a UX designer's work (research, development, customer flows) to present the user with a visually pleasing, easy-to-understand pathway using responsive interactivity to deliver a seamlessly satisfying experience. In essence, UI design is a combination of visual design and interaction design.  
Dejan Karin, one of our own UX designers here at the UX Design Institute, notes that:
"A good UI designer's role should also consider user accessibility. For example, a UI designer might consider the graphical colour contrast ratios of a digital interface to ensure that the design is inclusive and accessible as possible – e.g. is the interface accessible to users with visual impairments such as colourblindness?"
Making it in UI design
To excel in the field of UI design, Colman Walsh CEO of the UX Design Institute notes that it's important not only to understand your own role but also the work of others in the design chain;
"To be a successful UI designer, you have to understand the full design process – what comes before the work that you do, and what comes after. You can't work in isolation. You have to understand 'well, this is what developers need from me to hand over and this is all the work that goes into what the UX designer does.' You have to have an understanding of each element to be really good at your job."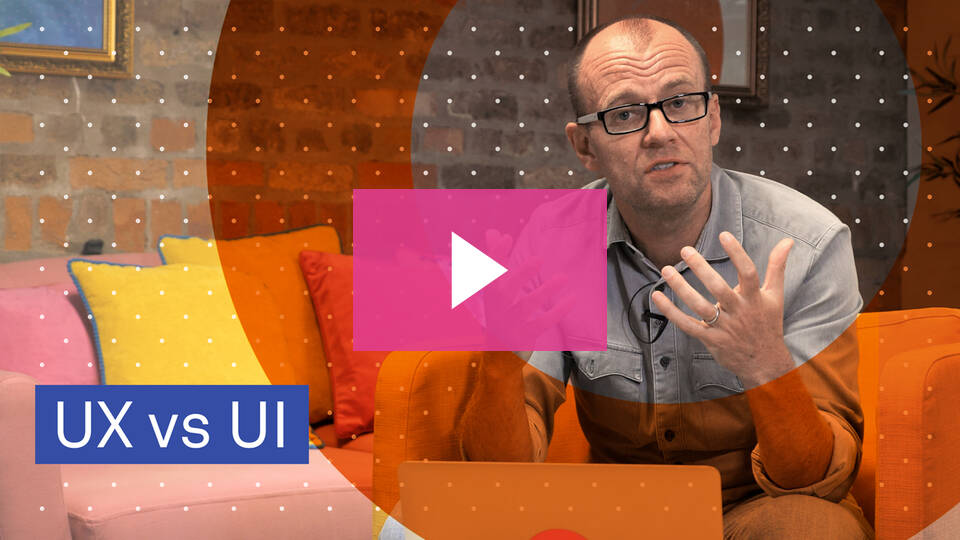 What's the difference between UX design and UI design? – UX Design Institute
How do UX & UI work together?
Now that you have a good idea of how UX and UI roles differ, it should be easy to see that one really can't exist without the other.
Colman Walsh, illustrates the relationship between UX and UI in analogous terms; 
"A UX designer is like an architect whereas a UI designer is like an interior designer.
"Let's take the example of the new Marker Hotel down in the Docklands in Dublin – undoubtedly the interior design of the building has played a massive part in the feeling you get when you go in there. It's about the aesthetics, the quality and the feel of the brand.
"However, none of that would be possible without the architect laying the fundamental groundwork in the first place – working out the space, how's the building going to work? How are the people going to flow? And so on. The two elements are very important to creating a high quality product. 
"It's important to note that the skillsets are distinct. As in the architecture/interior designer world, it's not impossible but it is rare that you would find someone that would be fully competent in both skills. You would definitely have architects, like for example, when you watch Dermot Bannon you can see that he's obviously got a flair for interior design and there are interior designers who would be very experienced and opinionated on architecture; but it doesn't mean that you would hire one person to take on both jobs."
Now let's consider an example in the tech world. Take Spotify, the music streaming app. The goal of Spotify is to provide a service for people to stream all of their favourite music in one place.
The UX design team's role is to make sure the journey to this end goal is as useful and satisfying to the user as possible. Hence, during the research and development stage of the app, the UX design team would have considered researched such elements as what the app needed to include to satisfy the user's needs, what might motivate them to use the app, what might irritate them, what features they would enjoy etc.  
Once these questions were answered, the UI team would have taken over. The blueprint provided by the UX team indicated to the UI designers what features and capabilities should and shouldn't be included in the app. Using these guidelines the UI team would have worked to design a coherent and interactive interface that organises the necessary information into a visually pleasing, easily navigable platform.
Results from the Spotify UX Team and UI Designers
From a UX perspective: a massive searchable database of music that enables the user to easily find, listen to and save to a playlist almost any song they want whether it's by song title, artist, album, genre, playlist and more.  
From a UI perspective: a visually appealing and user comprehensible interface design that clearly indicates to the user where to find songs they want to listen to, when and which song is being played versus which songs are not being played, along with a layout and organisation of information that is easy to understand.   
Together: one outstanding product.
Without great UX design, Spotify would be a visually appealing list of inaccessible music titles. Without great UI design, Spotify would only be useful in theory as users would have no idea how to navigate the platform or find anything they wanted.  
UX design vs. UI design at a glance
Here's a handy table to help you distinguish between the different roles of a UX versus a UI designer at a glance:
| | |
| --- | --- |
| UX design | UI design |
| AKA User Experience design | AKA User Interface design |
| Considers the humans who will be using the product or service's design | Considers the look and feel of the design |
| Creates prototypes and wireframes based on researched behaviour | Creates finished, visually appealing designs |
| Considers the way in which a user interacts with a website or app including user flow and overall functionality | Considers the interactivity design of all of the buttons and other controls used to complete actions on a website or app |
| Primarily focuses on functionality and purpose of the design | Focuses more on the aesthetic side of the design |
| Driven by research and data | Founded on patterns, personal preferences and recognised best practices |
| Focuses on solving user problems | Focuses on creating design that is visually attractive |
| Considers overall user flow on a website and how individual elements fit together | Focuses on individual interactions and pages |
Like the sound of UX?
UX newbie looking to find out more about the industry? We've got you.
Last summer we launched the world's first online, university credit-rated professional diploma in UX Design, designed to take you from beginner to certified UX professional in just 6 months. Want to find out more? Check out this page to get all the info you need.
Prefer a taster?
Our sister company UXtraining.com regularly holds two day UX Foundation Training courses in many European cities all year round.
Find out if a course is being held in a city near you.
Want to continue reading?
Check out how much you can earn as a UX designer around the world.